SOUL RETREAT
yoga & healing
Immerse yourself in nature and into a full experience of yoga & healing as powerful tools to integrate more self awareness and consciousness in your daily life to embrace profound transformational change and create freedom. Reconnect to Self. Return back home to your true essence and reconnect to your soul. Enjoy the tranquillity and intimacy of your well-hidden private retreat, discover the unspoiled beauty on the island of Kythera.

We have an integral approach - of body, mind, heart and soul - from a holistic perspective to create a unique experience. In a small group with a minimum of 8 and a maximum of 12 participants you will be guided in daily vinyasa/yin/restorative yoga practice, meditation & pranayama workshops, a beautiful Savasana Relaxation Concert by Lovely (guitar and voice), group healing and shamanic ceremonies. The retreat is deeply restorative and healing and you will benefit from the dynamic group energy. Enjoy plenty of free time to go to the beach, enjoy a massage, read a book or simply do nothing. Connect with like minded souls, share delicious and organic food and make memories together.
Lovely is a singer-songwriter, guitar teacher and yoga teacher.
Feeling a call to be of assistance on the path of growth and healing, she is dedicated to share the tools of yoga and healing music to help move into a greater connection with Self again. Inquiring the essence of our being. Lovely studied guitar, jazz-pop, at the Conservatory of Alkmaar, where she discovered her love, passion and talent for songwriting. She studied yin yoga with Jose de Groot and restorative yoga with Veda Ela and Alison Melvin.
Lovely has a very gentle, meditative style of teaching. Inspired by advaita vedanta and different healing and meditation practises. She nourishes you with her voice and guitar, bringing a message of love. Inviting you to reconnect to your true Self again'
Thamar is SoulCoach, Holistic Healer and Yoga Teacher. She is gifted to help you heal and (re)connect with your soul and true self, 'I see you'. She holds space for you with an empathic and compassionate embrace.
Thamar studied Vinyasa with her teacher and mentor Johan Noorloos, assisted his weekly vinyasa classes until she opened her own yoga studio 'Touch of the Sea' in 2018. She is inspired by Benjamin Sears, founder of LUXYOGA and his signature practice Sacred Geometry Vinyasa.
With a background in the corporate world, she has walked the path from a deep 'burner' to yoga and healing. Embodiment of her spiritual and healing practice is based on Yoga & Meditation and different authentic lineages of holistic healing; Mahatma Avatar of Synthesis and Senia Melchizedek, ThaiVedic holistic bodyworker, Hawaiian Lua Lomi/Lomi Lomi/Opu Huli massage and healing practices and the shamanic path of Paqo Pampamesayok.

Astarti Hidden Retreats is an eco-friendly place to escape, offering intimate and comfortable living space in perfect balance with the natural environment and working with the natural elements: earth, air, life and water. Expect private terraces with breathtaking views, interiors with personality, intimate corners and inviting common areas.
Soul Retreat includes:
7 nights accommodation in a private villa

daily morning Vinyasa Yoga

5 x afternoon Yin Yoga and Restorative Yoga

workshops and shamanic ceremonies

vegetarian/vegan meals; breakfast, lunch and dinner

coffee, tea, water and electrolyte drinks

half day boat trip

olive oil tasting

silent meditation walk

pick up and drop off airport
Retreat fee does not include:
insurance costs

massages (optional)

flight to Kythera
Accommodations options:
Junior Suite with sea view booked
One single bed, one double bed & shared bathroom € 1290 per person

Superior Villa shared accommodation (max. 4 people)
Two single beds, one double bed & shared bathroom booked

Superior Villa shared accommodation (max. 4 people)
Two single beds, one double bed & shared bathroom € 1290 per person

Superior Villa shared accommodation (max. 4 people)
Two single beds, one double bed & shared bathroom € 1290 per person

Deluxe Villa shared accommodation (max. 4 people)
Two sofa beds, one double bed & shared bathroom € 1290 per person
For questions or bookings e-mail: info@thamarkarpes.com or lovelyuhlenbeek@gmail.com
Your booking will be confirmed after full payment of the total amount.
Travel to Kythera:
There is no direct flight to Kythera from the Netherlands, only trough Athens. From the Netherlands it is best advised to book Transavia and to travel from Eindhoven with a connecting flight from Athens to Kythera on the same day and for the return flight.
Outbound flight
07:30 departure Eindhoven - 11:35 Athens International Airport Transavia
13:40 departure Athens International - 14:25 Kythira Olympic Air

Return flight
16:10 departure Kythira - 17:00 Athens International Airport Sky Express
19:40 departure Athens International Airport - 22:00 Eindhoven Transavia
WORKSHOP MAMA KILLA - 24 MARCH 2018
Mama Killa, Mother Moon, deeply influences us and Pachamama. She influences the sea tides, high and low. She influences our human bodies which contain up to 60% water. In this magical workshop Don Alejandro shares knowledge how to work with the energy of the different the moon cycles, when do you work with Mama Killa for example to release or when to start with a new project? You will learn a meditation how to connect and tune in the moon energy and we will end the workshop with a Moon Ceremony by making a despacho. Please bring your own mesa if you have one.
Location: Het Lichthuis in Zandvoort 10 a.m. until 5 p.m.
Workshop: € 125 (paid in cash before the start of the workshop) tea and coffee included
WORKSHOP DESPACHO OF 4 WIND DIRECTIONS - 25 MARCH 2018
Join this beautiful workshop! You will learn how to make a despacho, understand the background, how to work and connect with the four wind directions, mama Cocha etc. Every wind direction is connected with specific sacred sites in Peru, Huacas and Apus. You will also receive more detailed information about all ingredients being used in the despacho as well as the connection with the wind directions. In the afternoon every participant will make his or her own despacho. Please bring your own mesa if you have one.
Location: Het Lichthuis in Zandvoort 10 a.m. until 5 p.m.
Workshop: € 125 (paid in cash before the start of the workshop) tea and coffee included
PRIVATE SESSIONS HEALING OR HATUN KARPAY - 26 (FULL) AND 27 MARCH 2018
The Paqos are the masters of living energy! Everything is energy. Not only your physical body will be healed but your energetic bodies as well. You can choose to receive a private healing or one of the Hatun Karpay initiations. Here in the western world we suffer from all the chaos around us and in ourselves. An energetic healing can help you with:
old emotions, trauma, loss, mourning process

alienation caused by migration, move or adoption

stress and burn-out

soul retrieval
The healing will start with energy clearing (removing hucha) and the Paqo will start the healing with his Mesa (kuyas, medicine stones). The Paqo will work with you, fill and reconnect you with energy. This energy can be provided by Pachamama (Mother Earth), the Hanaq Pacha (upper world), the Kay Pacha (mid world, the Apus/Spirits of the Mountains) or de Uku Pacha (down world) and Spirit Animals. Every energy has unique qualities and power. Before the healing your intention for the healing will be discussed and afterwards, Don Alejandro will share his experience and give you advise.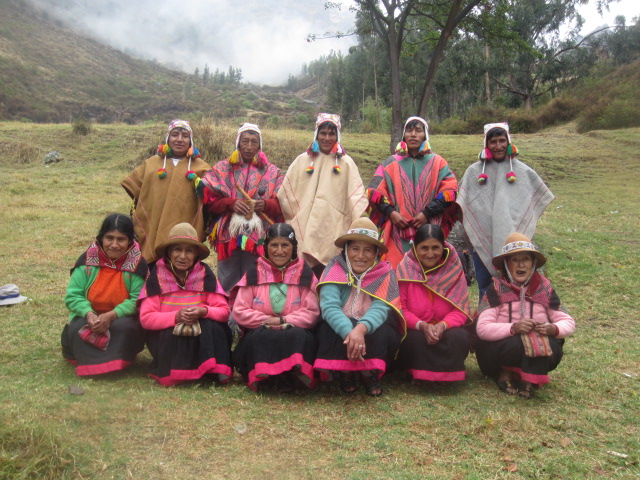 The Hatun Karpay
Munay Karpay - Opening of the Heart
Yachay Karpay - Knowing (intuitively) of the Gut
LLamkay Karpay - Working of the Mind
The Hatun Karpay is the Master Initiation. In total 3 initiations will be given, in between each initiation a minimum period of 6 months to a year is needed to integrate. The initiations open your heart, open and connect you with your own wisdom and intuition with a clear mind and ratio. Qeros receive the Karpays when they are chosen (for example if they are invited by the lightening) or when you feel an inner calling that this is your path. These are the first steps towards the Pampamesayok path and you should take responsibility for this. Study and daily meditation, working with your Mesa, taking care of your own healing process as well as supporting other people in their processes. When you do nothing with it, the energy of the Hatun Karpay will fade and be lost. It is like planting seeds that need loving care to be able to grow and blossom.
Location: Het Lichthuis in Zandvoort
Healing: € 125 (paid in cash )
Hatun Karpay Initiation: € 225 (paid in cash)
ABOUT DON ALEJANDRO
Paqo Pampamesayok Don Alejandro Apaza Machacca is born in 1953 in a small mountain village Qiqo in Qeros. Qeros is recognised as a nation within Peru since the Qeros indians are from the ancient and authentic lineage of the Incas. The village is located at 4.600 metres in the Andes Mountains. Since the Spanish Conquistadores have colonised Peru, the Qeros have been able to survived with little resources and they have taken refuge in these mountains. For 500 years without any influence of the outside world, they have verbally passed their knowledge and wisdom from generation to the next, being the reason why their Quechua language was an unwritten language until recently. Their teachings have remained authentic and pure, without any western influence.
Don Alejandro has been raised in a family blessed with an uninterrupted authentic line of Paqos, both Pampamesayok as Altomesayok. He has learned from his father Don Santos and his grandfather Don Ifratio Apaza, both Pampamesayok. His great grandfather Don Nicolas Apaza was a Altomesayok as well as his older sister Doña Maria. He grew up in his village and around the age of 16 he received the initiation of lightening which struck the earth close to him and deformed his foot. After consultation of the coca leafs by his father and other Paqos, it became clear that he could choose which path to follow. Many Paqos have been chosen by the lightening, they are being called to walk this path dedicate their lives to unconditionally help people and animals on Pachamama, help restore the balance, work and live from their hearts, to honour and consult the Apus (Spirits of the mountains) to support their work.
The Paqos and Q'eros community characterise by their simplicity and love, their strong connection with the elements, with Pachamama (Mother Earth), Mama Qocha, Nustas (Female Guardians) and the Apus (Spirits of the Mountains), Wayra (Wind), Tai Tai Inti (Father Sun), Mama Killa (Mother Moon), Chaskas (Stars and Star Constellations).
After some time Don Alejandro has decided to walk the path of Pampamesayok. He has received by far the most initiations in Qeros. Don Alejandro is well known for his loving way of working and he has proven to be a capable teacher to represent the Inca Tradition. Through his teachings we learn how to reconnect ourselves and how to open our hearts which is an important mission and desperately needed in our Western world nowadays.